Are you looking for the easiest, stress-free, most profitable online fundraiser? Look no further. Love My Library is an online platform that can see you raise thousands of dollars all while promoting reading! The platform makes it easy to track how much is raised and promote the fundraiser using texts and social marketing tools. The only thing on your plate is generating excitement! Love My Library handles the rest!
The Easiest Way To Raise Money For Your Library
Sign up for free today! It only takes 10 minutes to set up your account and kick off the easiest online fundraising program you've ever hosted.
Encourage Reading and Raise Money in this Fundraising Program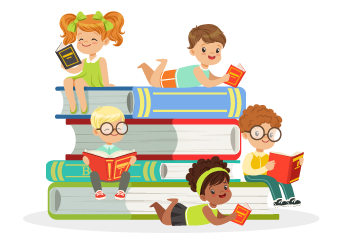 Product fundraisers are a thing of the past. Who wants to hold another bake sale? And selling cookies, candles, and calendars for more money than one can get those things and the store is a hassle. Love My Library raises money for your library while at the same time encouraging reading! Readers send out messages through texts and social media to friends and family. Supporters are able to make lump some donations through a safe, online platform so readers can meet their goals and you can raise money for your library!
This is by far the easiest library fundraiser around. With just a few simple clicks, even the youngest readers can raise money for your institution! All the while, they get more and more excited about reading! It really is a two for one benefit!
How Love My Library Works
You don't need a lot of manpower or time to run this fundraiser. Love My Library makes it so easy that one person can coordinate the whole event.
Love My Library takes the pressure of online fundraising out of your hands! Just follow these simple steps and you'll be well on your way to fundraising success.

Sign up for your free account.
The very first and most important step is to head to the Love My Library website and create your free account. This is no charge to run a Love My Library fundraiser. We know you'll raise more money than you ever have before. You may log in as an admin, a teacher, or a student. After that, Love My Library will take you step by step through our simple signup process.

Track your fundraiser's progress.
After creating your account, you can then have your readers make accounts. They'll be able to send out texts and emails gathering support. You'll be able to track their progress throught the Love My Library platform. You can view the number of sponsors and amount raised individually and collectively.

Advertise your fundraiser.
Using the Love My Library platform, you are able to send emails, texts, and share on social media your fundraiser to garner maximum visibility resulting in amazing results. Readers are also able to use these easy tools to generate support by making sure all their friends and family know about their goals. It's never been easier to generate publicity about your Love My Library fundraiser!

Relax and raise funds!
After a start up event if you choose to do one to generate publicity, you are able to watch the progress of your readers. Supporters are able to make donations using Love My Library's secure credit card payment processing system. You never have to handle any money. Librarians keep 45% of the money they raise as cash. It's that easy!
Get Started Today!
Online library fundraising has never been easier. Sign up today to kick off your most successful fundraiser yet! Or, if you'd like to learn more about Love My Library fundraising and the Love My Library platform, you can contact us toll free at +1 800-682-2240.